THIS PAGE IS DEDICATED TO ARTISTS WHO ARE AN INSPIRATION FOR ME AND MY WORK.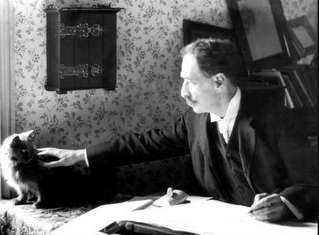 LOUIS WAIN IS THE REASON I BEGAN COLLECTING CAT THEMED ART. TEN YEARS AGO, WHILE RUMMAGING THROUGH THE STALLS OF THE CAMDEN LOCK MARKET IN LONDON, I HAPPENED UPON AN ANTIQUE NEWS CLIPPING OF A LOUIS WAIN DRAWING OF CATS DANCING AROUND A CHRISTMAS TREE. I IMMEDIATELY FELL IN LOVE WITH HIS HUMOROUS AND MISCHIEVOUS KITTIES WHO ENGAGED IN ALL SORTS OF HUMAN ACTIVITIES. THEY DROVE CARS, PLAYED CRICKET, DANCED, SMOKED, DRANK, WERE MAD SCIENTISTS, MUSICIANS, AND SOLDIERS.
THOUGH HE WAS AN ILLUSTRATOR OF SUCCESS, IT WAS WHEN HIS SKETCHES OF HIS CAT, PETER THE GREAT, ENGAGING IN HUMAN ACTIVITIES WERE PUBLISHED THAT HIS ARTISTIC CAREER REALLY TOOK OFF. PETER CAN ACTUALLY BE SEEN IN MANY OF WAIN'S EARLY WORKS AND HE ALWAYS ATTRIBUTED THE FOUNDATION OF HIS SUCCESS TO PETER.
HIS DRAWINGS AND PAINTINGS CAPTIVATED THE ENGLISH OF THAT ERA. LOUIS WAIN ESSENTIALLY HELPED TO CHANGE THE NEGATIVE IMAGE OF CATS, AND ELEVATE THEM TO NEW LEVELS OF POPULARITY AND RESPECT.
WAIN'S ART WAS WELL KNOWN AND SO POPULAR THAT HE BECAME KNOWN AS THE CAT ARTIST. IN FACT, THE ENGLISH WRITER AND FUTURIST H.G. WELLS WROTE:
"He made the cat his own. He invented a cat style, a cat society, a whole cat world. English cats that do not look like Louis Wain cats are ashamed of themselves."
I NOT ONLY ADMIRE THE ARTIST, BUT ALSO THE MAN. HE DID NOT HAVE AN EASY LIFE. HIS WIFE DIED OF ILLNESS VERY EARLY IN THEIR MARRIAGE, HE SUPPORTED HIS WIDOWED MOTHER AND FIVE UNMARRIED SISTERS WITH HIS ART UNTIL HIS DEATH AND, SADLY, DID NOT BECOME RICH FROM HIS GREAT SUCCESS AS HE WAS RATHER NAIVE IN BUSINESS MATTERS. HE COULD BE CONSIDERED AN EARLY ANIMAL ACTIVIST AS HE WAS A MEMBER OF THE ANTI-VIVISECTION SOCIETY. ALSO ACTIVE IN THE NATIONAL CAT CLUB, HE SERVED AS ITS PRESIDENT.
LOUIS WAIN, VERY SADLY, SPENT THE LAST YEARS OF HIS LIFE IN MENTAL HOSPITALS SUFFERING FROM WHAT WAS DIAGNOSED AS SCHIZOPHRENIA, BUT HE NEVER STOPPED DRAWING AND PAINTING CATS OR FINANCIALLY SUPPORTING HIS FAMILY. HE DIED IN 1939 AND,THOUGH HIS ART CONTINUES TO BE PRIZED BY COLLECTORS WORLDWIDE, HE IS, UNFORTUNATELY, RATHER FORGOTTEN IN A FORLORN FAMILY GRAVE IN KENSALL GREEN CEMETERY IN LONDON.
THIS IS A VERY BRIEF SUMMARY OF HIS LIFE, BUT I HOPE IT INSPIRES YOU TO FIND OUT MORE ABOUT THIS AMAZING ARTIST AND MAN. HE TRULY WAS THE CAT ARTIST AND FOR ME, ALWAYS WILL BE.